Apology from THE PHILIPPINE DAILY INQUIRER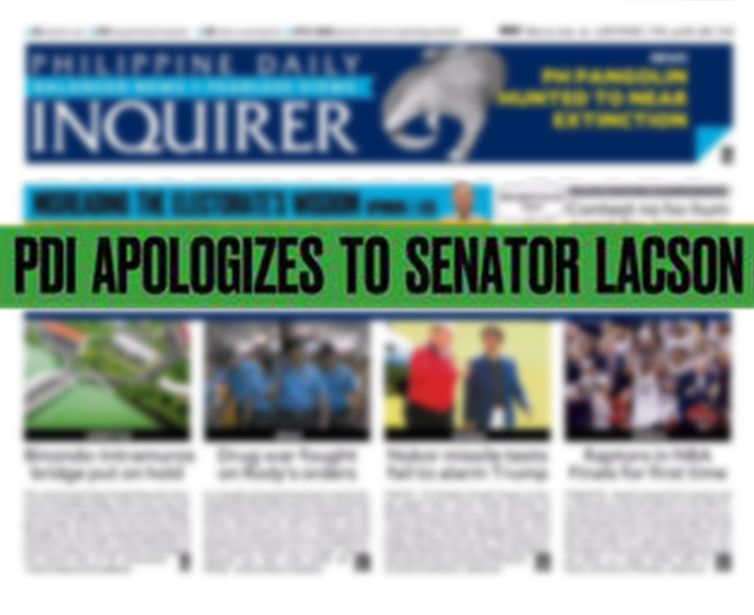 1. In May 2019, the Inquirer published an apology for several opinion column articles of its former columnist Ramon Tulfo in July 2001. The articles involved:
* the alleged misdeeds of Sen. Lacson while he was an officer of the Philippine Constabulary, based on the confession of self-confessed hitman Francisco "Kit" Mateo
* the alleged multimillion-dollar account of Sen. Lacson in US banks, which was based on an intelligence report submitted to then Pres. Gloria Macapagal Arroyo by then chief of the Intelligence Service of the AFP (ISAFP) Col. Victor Corpus.
2. The Inquirer noted Mateo recanted his confession before he died of colon cancer in January 2001, while Corpus admitted his only source for his intelligence report was Ador Mawanay, who turned out to be a fraud. As such, the Inquirer said it "sincerely apologizes for the published articles based on testimonies of persons that turned out later to be false."
3. Lacson accepted the apology. In a tweet, he lauded the PDI for its "humility and courage to admit I am not the person you said I was." He added: "Getting back my honor and dignity matters a lot to me. It is with equal humility that I accept your apology."