ENVIRONMENT
1. OPARR, to Help Victims of Yolanda:
Senator Lacson served as the Presidential Assistant for Rehabilitation and Recovery (PARR), overall manager and coordinator of rehabilitation, recovery, and reconstruction efforts for those affected by Super Typhoon Yolanda (Haiyan). Despite the limitations and difficulties inherent to his mandate, Lacson and his staff managed to put together the Yolanda Comprehensive Rehabilitation and Recovery Plan (CRRP), which detailed institutional arrangements, including public-private partnerships; and cluster structures for infrastructure, social services, resettlement, livelihood, and support to accomplish the 'Build Back Better' vision for the 171 cities and municipalities in 14 provinces across the six regions devastated by Typhoon Haiyan.
2. Proposed Philippine Building Act of 2019:
Sen. Lacson authored Senate Bill 1239, the proposed Philippine Building Act of 2019, which will strengthen of the existing National Building Code of the Philippines. This will ensure that overall policy on how buildings and structures are in line with disaster preparedness— a key to saving lives and property against the increasing number of natural and human-induced disasters.
3. No Nation Can Do It Alone:
"The effects of global warming have become evident in that a lot has changed in our environment. The deadly flooding that devastated parts of western Europe is the most recent – and grim – proof of this."
"No nation can do it alone. It is time for the community of nations to really take this issue very seriously. The Earth can only take so much abuse, cruelty and punishment from man. If we still cannot see some obvious acts of revenge from Mother Nature, we may wake up one day personally witnessing her fury upon us, one way or the other."
"Isang kayang gawin, magtanim ng puno. This calls for civic duty of the citizenry. Ito pinangunahan ng Rotary Clubs."
4. 'I Love the Ocean' Movement honorary member:
In May 2000, then PNP chief Lacson became an honorary member of the "I Love the Ocean Movement," receiving his honorary membership card at Camp Crame.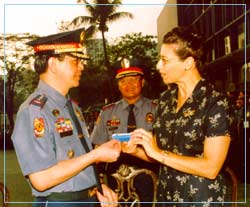 5. Budget:
In 2019, Senator Lacson pioneered the increase of P2.352 million for the DENR-Environmental Management Bureau (EMB) to fund the monitoring and inventory of greenhouse gases of Pollution Laboratories in Visayas and Mindanao. To recall, he also proposed the P2.5-million budget increase to fund the establishment of these pollution laboratories in 2018 in line with the requirements of the EMB.
For the 2021 budget, Lacson championed the funding for the "Disaster Rehabilitation and Reconstruction Assistance Program for LGUs" under the 2021 budget of the DILG-Office of the Secretary. P20 billion was allocated for the Rehabilitation and Reconstruction of areas directly affected by Taal Volcano eruption, Typhoon "Quinta", Super Typhoon "Rolly" and Typhoon "Ulysses" under the Allocations for Local Government Units-Local Government Support Fund.