Lacson Bill Gives Government Stronger Teeth vs Terrorism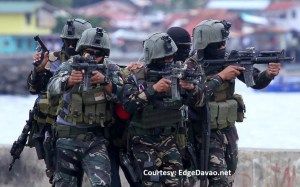 The government may soon gain a much-needed boost in its fight against terrorism, with a bill filed by Sen. Panfilo M. Lacson.
Senate Bill 1956, the proposed "Anti-Terrorism Act of 2018," enhances the Human Security Act of 2007 with provisions on foreign terrorists and additional predicate crimes.
"While an anti-terror law in itself cannot solve the problem of terrorism, an intensified one can however give the government and the law enforcement agencies the much-needed tool in dealing with the emerging threats of terrorism," said Lacson, who headed the Philippine National Police from 1999 to 2001 and who played a key role in crafting the Human Security Act of 2007 (Republic Act 9372).
Lacson lamented that while RA 9372 has been in effect for more than 10 years, gaps in the law prevented authorities from implementing it properly.
He added the occupation of Marawi City by the Maute Group in 2017 "revealed the many loopholes of the current anti-terrorism law." He noted the Philippines was ranked the 12th most affected by terrorism by the Global Terror Index in 2017.
The recent bombing incident in Isulan, Sultan Kudarat suggests that neither martial law nor the Bangsamoro Organic Law could guarantee peace in Mindanao, Lacson pointed out.
"Instead, it is my view that the National Security Council and our ground security forces should take a hard look at their security plans and strategy especially in the South and try to avert the vicious cycle of talking peace with one tribal group while alienating the others," he said.
He added the Moro Islamic Liberation Front came into being and became a dominant armed force in Mindanao after we dealt peace with the MNLF. But as government discusses peace with the MILF, a breakaway group is sowing terror.