Lacson Bill Seeks to Fulfill Constitution's Provision vs Political Dynasties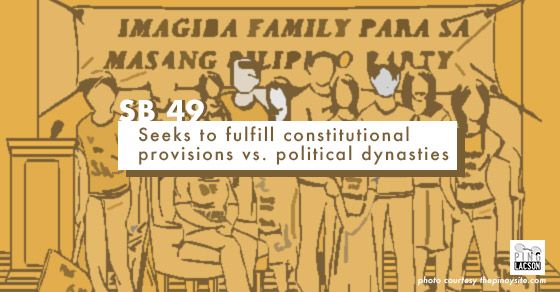 After nearly 30 years, the Philippine Constitution's provision prohibiting political dynasties may finally be fulfilled, with a bill filed by Sen. Panfilo M. Lacson.
Lacson said Senate Bill 49 seeks to implement the 1987 Constitution's provision to give all Filipinos equal access to opportunities in public service by thwarting political dynasties.
"While the State recognizes the pernicious effects of political dynasties, there is still no enabling law to prohibit its existence in the political arena. Influential clans and families that are well-entrenched in the political arena have made positions in government their virtual playgrounds, resulting in the proliferation of small monarchies all over the country. This makes a mockery of what should otherwise be a level-playing field in politics and espouse political inequities," he said.
Related: Ping, aarangkada vs political dynasty
[Download: Senate Bill 49, Anti-Political Dynasty Act of 2016]
He also lamented that despite many attempts to introduce an anti-political dynasty law as early as the 8th Congress, such a measure has yet to be passed.
This can be due to many members of Congress being from politically dominating political clans, who have "successfully argued for the electorate's right to choose their elected leaders using the oft-repeated principle that 'sovereignty resides in the people and all government authority emanates from them,'" he said.
Lacson said his bill seeks to prohibit the spouse or person related within the second degree of consanguinity or affinity, whether legitimate or illegitimate, full or half blood, to an incumbent elective official seeking re-election, to hold or run for any elective office in the same city and/or province in the same election.
It also bars two or more persons who have a political dynasty relationship from running simultaneously for an elective office within the same city and/or province, even if neither is so related to the incumbent public official.
But if the constituency of the incumbent elective official is national in character, "the above relatives shall be disqualified from running only within the same province where the former is a registered voter."
And in cases where none of the candidates is related to an incumbent elective official within the second degree of consanguinity or affinity, but are related to one another within the said prohibited degree, they, including their spouses shall be disqualified from holding or running for any local elective office within the same city and/or province in the same election.
The bill also specifies that no person who has a political dynasty relationship to the incumbent shall immediately succeed to the position of the latter, except in the cases of Punong Barangays or members of the Sangguniang Barangay.
It requires those running for any elective public office except barangay official to file a sworn statement with the Commission on Elections that he or she does not have a political dynasty relationship with any incumbent public official running for an elective public office in the same city and/or province other than the position earlier mentioned.
Disqualification
Any citizen of voting age, candidate or registered political party organization or coalition of political parties may file with the Commission on Elections a verified petition to disqualify a candidate, after the last day for filing of certificates of candidacy and before proclamation.
The Comelec shall hear the petition and decide summarily after due notice and hearing.
"The Comelec shall, upon the filing of a verified petition by any interested party, deny due course to any certificate of candidacy filed in violation of this Act and the votes cast for the disqualified candidate, if any, shall not be counted nor shall such candidate be proclaimed nor be qualified to assume office," the bill said.
If the petition is not decided before canvassing is completed, votes cast for the respondent shall be included in the counting and canvassing. But if the basis for such disqualification is strong, his or her proclamation shall be suspended.
If a candidate disqualified under this Act had been proclaimed and has assumed office, "his or her political dynasty relationship shall be a ground for disqualification in appropriate quo warranto proceeding."
*****