Ping's wish after Donaire's loss: Pacquiao to leave ring while fans still clapping [Politiko]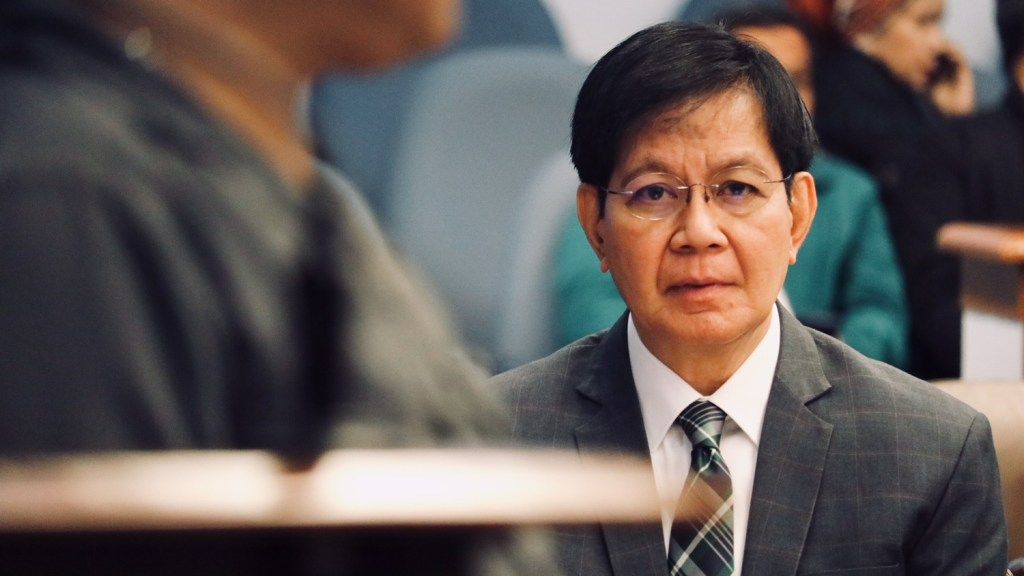 From Politiko: "I pray for my friend and colleague, Senator Emmanuel Pacquiao… It is best to leave the stage while your audience is applauding."
Ping's wish after Donaire's loss: Pacquiao to leave ring while fans still clapping
April 22, 2018
A sad day for Philippine boxing.
This was how Sen. Panfilo Lacson described Sunday the defeat of "Filipino Flash" Nonito Donaire Jr. to Carl Frampton in their interim featherweight bout in Belfast.
But Lacson, who engaged in boxing while studying at the Philippine Military Academy before graduating in 1971, also voiced concern for another Philippine boxing great – now-Senator Emmanuel Pacquiao.
"Sad day for Ph boxing: CARL FRAMPTON BEATS NONITO DONAIRE," Lacson said in a tweet.
"I pray for my friend and colleague, Senator Emmanuel Pacquiao… It is best to leave the stage while your audience is applauding," he added.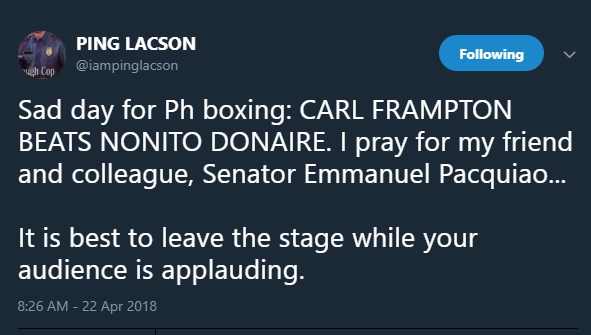 Nonaire lost to Frampton in the WBO Interim World Featherweight bout as the Belfast boxer controlled the 12-round bout from the start.
All three judges scored the fight in favor of Frampton.
Meanwhile, Pacquiao – a former eight-division world champion – is due to face Lucas Matthysse in Kuala Lumpur in July.
The senator, who also dabbled briefly in professional basketball, is turning 40 this December.
Pacquiao has been 2-2 in his last four fights, including a controversial decision to Jeff Horn in July 2017. Matthysse is 2-0 after returning from a two-year hiatus.